PKNERGY 12V 200Ah LiFePo4 Replacing Lead-acid Battery
Product Detail
Product Tags
PKNERGY Lithium Iron Phosphate ( LiFePO4 ) batteries are developed to deliver high efficiency energy output compared to equivalent lead acid batteries. They are able to accept continuous high rate charging amps which make the battery fully charged in short time and improve the load service efficiency significantly. The built-in advanced BMS ensures intelligent automatic protection against over voltage, over current, over discharge, over temperature.
Features:
A. Extremely safe and stable chemistry: PCB and/or BMS built inside to balance protect the battery.
B. Long life-cycle: Can be circularly used, best can up to 6000 times recycles , 8 times of Lead acid battery.
C. Lighter weight, with the best power-to-weight ratio: 1/3 of Lead acid battery weight.
D. Good performance at high temperature and high temperature resistance
E. Low self-discharge rate, less than 3% monthly.
F. No memory effects and highly efficient charge.
G. Environment friendly: Clean and Green energy poses no pollution on our environment.
Specification
Electrical Characteris tics

Nominal Voltage

12.8V

Nominal Capacity

200Ah@0.2C

Energy

2560Wh

Internal Resistance

≤15mΩ

Cycle Life

6000 Cycles @ 40A Charging/Discharging ,Until 80% Capacity

Self Discharge

≤3.5% per month at 25℃

Standard Charging

Max.Charging Voltage

14.0~14.4V

Charging Mode

At 0℃~45℃ temperature, charged to 14.4V at a constant current of 40A, and then,changed continuously with constant voltage of 14.4V until the current was not more than 4A

Charging Current

40A

Max.Charging Current

100A

Standard Discharging

Discharging Current

40A

Max. Continuous Current

100A

Max.Pulse Current

200A(<3S)

Discharging Cut-off Voltage

10.0V

Operating Condition

Charge Temperature

0℃ to 45℃(32℉ to 113℉) @60±25% Relative Humidity

Discharge Temperature

-20℃ to 60℃(-4℉ to 140℉) @60±25% Relative Humidity

Storage Temperature

0℃ to 45℃(32℉ to 113℉) @60±25% Relative Humidity

Water Dust Resistance

IP55

Structure

Cell & Format

IFR32700 N60&4S34P

Casing

Plastic – 3 -

Dimension(L*W*H*TH)

522*238*218mm

Weight

Approx:27.0Kg

Terminal

M8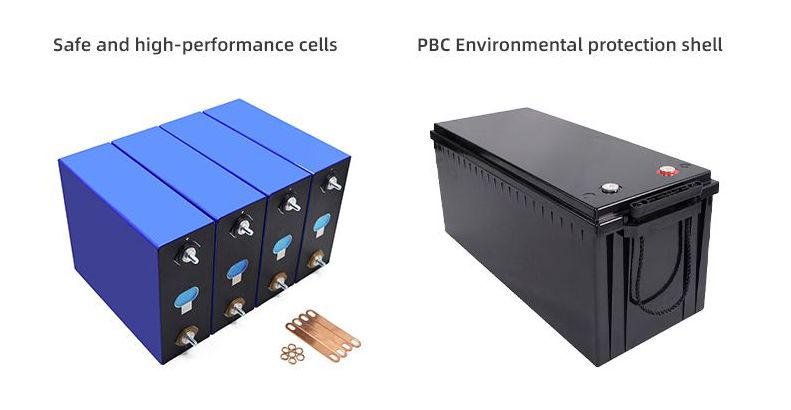 Performance And Test Conditions
Using the technology of lithium iron phosphate cell, superior safety, 6000 times cycles, 100% DOD guaranteed before delivery,under normal conditions.

Built-in automatic protection for over-charge, over discharge, over current and over temperature.

Free of maintenance .

Internal cell balancing.

Lighter weight: About 40% ~50% of the weight of a comparable lead acid battery.

Replacement for lead-acid battery.

Wider temperature range:-20℃~60℃.

Support for Series application expansion (up to 25.6V) or two in parallel.
Application
UPS

Solar &Wind Power System

Golf Cart

Electric Vehicle , E-bike, E-rickshaw etc.

Lighting
Discharge performance graph
Dimension

Safe Characteristic
No.

Item

Testing Instruction

Requirement

1
Over- charge test

Charge in accordance with the following two ways ( Choosing one between the two).

(1 ) Charge at 1 Ccurrent for 9 0 min or until voltage of some single battery reaches 5 . 0 V ( stop test when fulfills eithercondition).

( 2 ) Charge at 3 C current until the voltage of some single battery reaches 10 . 0 V, then stop the test.

The battery shall not explode or catch fire
2
Over- discharge test
Charge the battery. Place at 20±5℃ for 1h, then discharge in 1 / 3 C current at same emperature until some cell' s voltage is 0 V
The battery shall not explode orcatch fire
3
Short- ircuiting Test
After charge batteries, place at 20 ± 5 ℃ for 1 h. Short the battery for 1 0 min, the external circuit resistance should be less than 5 mΩ.
---
---
Write your message here and send it to us